If you are reading this, you've most likely seen or read that mineral sunscreen is much better for us and our children but want to know more about how and why in an ever changing world of do's, don't's and fads.
I hope I will very simply be able to decipher the differences and benefits for both types of sunscreen for you here.
Traditional and readily available sunscreens are otherwise known as chemical sunscreens. As you have probably guessed, this is because they require a number of chemical ingredients to bring your skin protection from UV rays.
The most common chemicals you'll find in chemical sunscreens are: oxybenzone, homosalate, octinoxate, octocrylene – though there are indeed many more.
If you compare this with a Mineral Sunscreen you'll find the ingredients that protect your skin from UV rays is just 2 natural ingredients – zinc oxide and titanium oxide.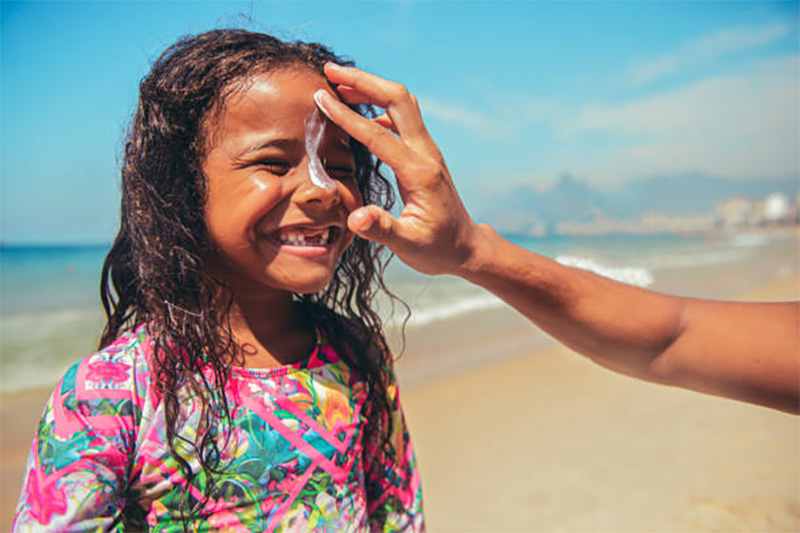 There's more. The way in which a chemical and mineral sunscreen work are quite different too.
Chemical sunscreens are absorbed into the skin, metabolised and create a reaction that prevents your skin from burning. – Ever wondered why you're advised to allow 20 mins after application for your sunscreen to work? – this is why!
Mineral sunscreens sit on the surface of your skin and simply reflect UV rays. There is no chemical reaction required for protection, no absorption meaning your skin will also be protected from age spots and melasma when using a mineral sunscreen immediately upon application.
I have attached here a simple infographic that illustrates this: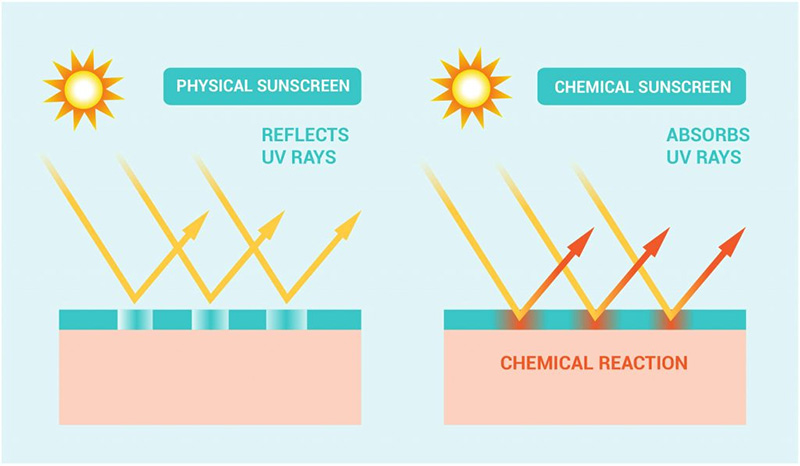 I once read the below and it's stuck in my head ever since
"Mineral sunscreen is like giving your body a great home cooked meal. Chemical sunscreen is the same as feeding your body fast food"
In addition to not being particularly great for us, chemical sunscreens are pretty damaging to marine life too. An example of how damaging is Hawaii where over 50% of coral reefs have been killed and the chemicals from sunscreen being held largely responsible.
I find this terribly sad, and very scary for the future which is already looking rather bleak on this front.
Now that I better understand the differences in sunscreen options inevitably, I made the switch for my family from chemical sunscreen to mineral. Sourcing mineral sunscreen is not as easy as you might think when large chemical sunscreen brands dominate the shelves everywhere you turn.
That is until I discovered Sunkiss Sunscreen – which ticks so many more boxes for me than just being a mineral sunscreen.
See below what else Sunkiss Sunscreen offers and why it has made it to our shelves
Reef and coral friendly
Vegan, natural and toxin free
Made locally in the UAE (this makes our carbon footprint very happy!)
Stored in recyclable and reusable aluminium containers (yey to no plastic!)
Refill service offered
Immediate protection upon application
We stock the entire range on Harri & Eve which includes children's sunscreen, adult and the most delightful nourishing after sun lotion too.
I have linked the range here for ease!
P.s – combined with a Savvisand sand removing beach brush you have all the essentials you'll ever need for a fuss free, memory filled and heart warming day at the beach with your fam!!!!