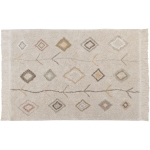 Kaarol Earth Washable Rug – L
Kaarol Earth Washable Rug – L
د.إ1.700,00 inc VAT
Item in Stock | Usually dispatched within 24 hours
Step into the streets of Morocco without leaving your home! This machine washable rug features a multi-colored Berber-inspired diamond design in subdued tones of Olive green, Honey, Soil Brown, Ivory and Vintage Nude. Finished with tousled fringes at the edges that add a bohemian vibe. A rug that will liven up any room with an ethnic touch in elegant earthy colors.
A plush, all-cotton, non toxic rug, that only uses natural dyes, while also being lightweight, as it is tufted over a flexible cotton canvas base. Handmade in India by our team of artisans making each rug unique.
This stunning rug measures: 240x170cm
What makes Lorena Canals Rugs unique is their low maintenance, machine washable features. A must for family homes!
Be sure to check and follow the washing care guide associated with your Lorena Canals Purchase. There are some variations between care guides and products.