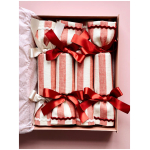 Santa's Stripes Happy Crackers
Santa's Stripes Happy Crackers
د.إ749,00 – د.إ1.299,00 inc VAT
A beautifully handmade set of fabric celebration crackers. Designed for use all year round!
Gorgeous and reusable year after year, these extra special keepsake crackers are a family tradition that you can begin and pass along through generations.
Fill your Happy Cracker with a small selection of pocket sized treats for the ultimate surprise!
Add a touch of sparkle and fun with confetti if you wish – anything that will bring happiness and joy!
Happy Crackers can be used for a variety of celebrations and occasions – Engagement Surprises, Christmas, Tooth Fairy, Birth Announcements, Gender Reveals, Birthdays, Easter, Christmas, Ramadan and so much more!
Choose from a single Happy Cracker, box of 4 or box of 8.
Click HERE to shop our selection of items perfect to go inside your Happy Cracker!
Mix and match designs, themes and seasons or choose a timeless classic.
All Happy Cracker covers are made from Liberty of Londons iconic cotton fabrics and dressed with the finest ribbons (made from recycled bottles) and trims. Inside you'll find a reusable cardboard canister to hold your chosen treats.
Care Guide: Washable on a cool wash with a gentle detergent (no bleach). Do not tumble dry. Iron before use to restore the luxe crispness of your cracker time after time.