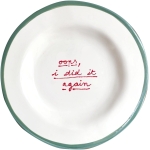 "Oops I Did It Again" Dessert Plate
"Oops I Did It Again" Dessert Plate
د.إ259,00 inc VAT
Item in Stock | Usually dispatched within 24 hours
Stoneware dessert plate hand painted with love and naughtiness in Portugal by artisans.
Size : 21 x 21 x 2 cm
Food & dishwasher friendly
Please be aware that these plates are handmade and might have small differences from the picture.
Laetitia Rouget, a Portuguese artist and ceramist brings you a gorgeously fun suite of home and table wares. Each piece hand hand painted, splashed with colour and guaranteed to make your interiors pop! – did we mention this collection is great for gifting!