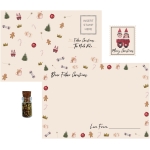 Magical Letter to Father Christmas (with Reply)
Magical Letter to Father Christmas (with Reply)
د.إ165,00 – د.إ175,00 inc VAT
Introducing The Magical Things Co. x Harri & Eve Christmas Collaboration –
The Magical Letter to Father Christmas with Reply!
We are thrilled to share this collaboration, created to bring a truly magical experience for your entire family to enjoy this Christmas.
Your child can complete their letter for Father Christmas, sprinkle with the magic dust and relish in their delight knowing that the Harri & Eve Elves have collected and hand delivered their letter to the Big Man himself.
The magic doesn't end there…in this bundle you will find everything you need to keep the magic going with the reply from Father Christmas which you can leave out for your child to discover. This reply letter also comes with a Magical Key for your family to leave out on Christmas Eve, helping Father Christmas find his way to leaving the presents under your tree.
Enjoy every ounce of Christmas memory making with this bundle!
Each bundle includes:
*Parents – please note that this bundle includes both the 'Letter to Father Christmas' section
(envelope 1) and the 'Reply Letter from Father Christmas' section
(envelope 2). Envelope 2 is not to be opened in front of your children, but to help parents in keeping the magic alive on behalf of Father Christmas.
Attached to the bundle, you will find an A6 print with clear instructions so that the reply from Father Christmas remains a surprise for your little ones. Please pay close attention to the instructions and do not open this delivery in front of your children.
Envelope 1:
1 x Merry Christmas Memo from the Harri & Eve Elves, which lists highlights the steps for your child to complete their letter and send it off
1 x Limited Edition Harri & Eve Postcard for your child to write or draw their special letter to Father Christmas
1 x Magical Stamp for your child to add to their Postcard before the send off to Father Christmas
1 x Magic Dust Vial to sprinkle over your Postcard, signalling the Harri & Eve Elves to collect your letter
Buy the Set with Extra Postcards if you have multiple children. Extra Postcards & Stamps are charged at AED 5.
Envelope 2 – For Parents Only….
1 x Reply Letter from Father Christmas himself, along with a personalised return envelope and wax seal stamp making the reply from the man himself even more special
1 x Magical Key for your children to leave out for Father Christmas on Christmas Eve
All items have been handmade in Dubai by The Magical Things Co. exclusively in collaboration with and for Harri and Eve.