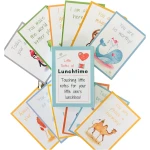 Little Notes by Mini Mindfuls
Little Notes by Mini Mindfuls
د.إ75,00 inc VAT
Item in Stock | Usually dispatched within 24 hours
Do you have a child starting or going back to school this year?
This pack of Little Notes is a set of beautifully printed cards designed to fit into lunchboxes delivering an empowering message to support their starting or back to school journey.
It's like sending a comforting hug with their lunch whilst you're not there!