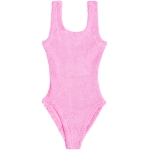 Alva Crinkle Swimsuit – Bubblegum (age 2-6)
Alva Crinkle Swimsuit – Bubblegum (age 2-6)
د.إ325,00 inc VAT
Item in Stock | Usually dispatched within 24 hours
Our mini classic swim now with the sweetest tiny bow.
One size
Fits 2- 6 years old
The Original Crinkle™
Lighter colours may appear translucent when wet. Neon colours may fade over time. This is not a manufacturing defect.
Please see our Shipping & Returns page for our swimwear returns policy.